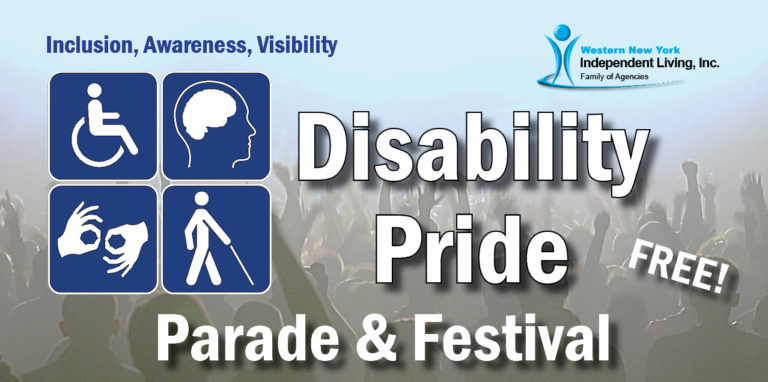 July 26-30 is an exciting weekend for supporters of people with disabilities. The annual Buffalo Disability Pride Festival will take place at several locations downtown that weekend, and it's jam packed with events, activities and celebrations.

On July 26, 1990, the Americans with Disabilities Act (ADA) was passed. This act made it illegal to discriminate against people with disabilities in the workplace, at school, and in public spaces. It also mandates equal opportunity within state and federal services, public transportation and accommodations. This was a milestone law for the millions of people with disabilities. In 2008, the act was amended to include a broader definition of the term "disability" and expand protections to a more inclusive group of disabled persons.

The annual Disability Pride Festival celebrates this legislation and aims to unite people with disabilities and their supporters. This year, it features three days of events. Some of them require pre-registration, so plan ahead!

Here's a brief overview of what you can expect each day.
Thursday, July 26
The regional service center for people with disabilities is located in the West Seneca Developmental Center, which is not accessible via public transportation. In fact, the nearest bus access is three miles away and there are no sidewalks as you walk down a highly trafficked road.

On July 26, there will be an organized march to urge Governor Andrew Cuomo and acting Office for People with Developmental Disabilities (OPWD) commissioner Kerry Delaney to take action to move the regional service center to a more accessible location.

Protesters can gather at the Southgate Plaza at 10:30 a.m. on July 26 and march three miles to the West Seneca Developmental Center, following the course from the nearest bus stop to the center. Participation is encouraged for anyone invested in disability rights and accessibility issues.

If you're unable to march but would like to help, you can sign the petition. Please contact organizer Brian Zralek at brian@voicebuffalo.org for more information about this event.
Saturday, July 28
The Disability Pride Parade!

The parade will launch from 24 S. Elmwood in the parking lot behind City Hall. Lineup begins at 9:30 a.m. and the parade launches at 10:30 a.m. Anyone is welcome to join in on the parade. For-profit organizations are asked to make a donation to Western New York Independent Living, a sponsor of the parade and subsequent festival. More information about parade entries can be found on the WNYIL website, including a map of the parade route.

The parade will wind through downtown Buffalo and end at the Bison's stadium, Coca Cola Field, at 11:30 a.m. Then, it's time for the festival! From 11:30 - 3:30 p.m., everyone is welcome to attend the Disability Pride Festival in the VIP section of Coca Cola Field. The festival will feature family activities, free food, and live entertainment. Awards will also be given out for parade participants, and the first 250 attendees will be given tickets to Monday's Bison's game!
This festival is a wonderful opportunity for people of all abilities to gather together and celebrate their differences and commonalities, and most importantly, to just have a day of fun!
Sunday, July 29
WNY Adaptive Water Sports is hosting an accessible boating day in Canalside as part of the Disability Pride festival weekend.

According to Gayle Nowak from WNY Adaptive Water Sports there will be sailing tours of the inner and outer harbors and fishing trips open to the public. Trips will be launching from the dock at the foot of Main Street near the KeyBank Center.

WNY Adaptive Water Sports is equipped with a Hoyer lift and ramps to ensure maximum accessibility and easy boarding. Individuals with disabilities and their families are encouraged to participate in this unique opportunity - no experience necessary. Even if you're not interested in boating, you can still come by and watch all the activity while exploring Canalside.

While this event is open to everyone, pre-registration is strongly suggested, as spots are limited. Walk-ins will be able to participate on a standby, first-come-first-served basis. To register, contact Gayle by calling 716-364-8219, after 5 p.m.
Monday, July 30
The Buffalo Bisons play the LeHigh Valley Iron Pigs at 7:05 p.m. This game is in celebration of the ADA. Tickets will be given away to the first 250 attendees of Saturday's festival, but anyone is welcome to purchase tickets (it's a markdown Monday!), attend the game, and continue the celebration of Disability Pride at the ballpark!
Why is Disability Pride so important?
Each year, there are hundreds of celebrations around the nation celebrating various groups of marginalized people. While LGBTQ Pride festivals are slowly becoming more mainstream, there are many other groups of people, often forgotten, who work everyday to live a life free of additional burden and judgement.

The Disability Pride Festival celebrates people everywhere who are living with disability. What's wonderful about pride festivals is that they aren't limited to people within the specified group(s) - they provide a platform for support, education, and celebration for everyone. The Disability Pride Festival encourages participation and attendance from people with disabilities and without, to promote a unified force for accessibility and stigma relief. Even with the ADA, people with disabilities are often cast aside, forgotten about, and neglected when it comes to things others take for granted. Disability Pride gives us an opportunity to celebrate our lives, and invigorate ourselves for all that's left to accomplish.
At UDE, we support and encourage programs and designs that are accessible to people of all abilities, and to keep that accessibility at top-of-mind when making decisions.
We believe events like the Disability Pride Festival are helping to increase awareness of these issues, as well as unite and empower people all over the country who are faced with unnecessary obstacles every day because of inaccessible design.